Recent Posts
Here are two important stories, quite possibly the most important I've posted since I began running the WestCoastClimateEquity blog in September 2008:
First, there's the piece in The Independent by Steve Connor, Science Editor.
Russian research team astonished after finding 'fountains' of methane bubbling to surface
Dramatic and unprecedented plumes of methane – a greenhouse gas 20 times more potent than carbon dioxide – have been seen bubbling to the surface of the Arctic Ocean by scientists undertaking an extensive survey of the region.
The scale and volume of the methane release has astonished the head of the Russian research team who has been surveying the seabed of the East Siberian Arctic Shelf off northern Russia for nearly 20 years.
In an exclusive interview with The Independent, Igor Semiletov, of the Far Eastern branch of the Russian Academy of Sciences, said that he has never before witnessed the scale and force of the methane being released from beneath the Arctic seabed.
"Earlier we found torch-like structures like this but they were only tens of metres in diameter. This is the first time that we've found continuous, powerful and impressive seeping structures, more than 1,000 metres in diameter. It's amazing," Dr Semiletov said. "I was most impressed by the sheer scale and high density of the plumes. Over a relatively small area we found more than 100, but over a wider area there should be thousands of them."
Scientists estimate that there are hundreds of millions of tonnes of methane gas locked away beneath the Arctic permafrost, which extends from the mainland into the seabed of the relatively shallow sea of the East Siberian Arctic Shelf. One of the greatest fears is that with the disappearance of the Arctic sea-ice in summer, and rapidly rising temperatures across the entire region, which are already melting the Siberian permafrost, the trapped methane could be suddenly released into the atmosphere leading to rapid and severe climate change.
Click here to read more of this article and view a map of the area of concern.
They've been at the American Geophysical Union (AGU) 2011 Fall Meeting in San Fransisco, and on December 8, Professor Peter Wadhams (Professor of Ocean Physics, Cambridge University) and Arctic Methane Emergency Group Chairman, John Nissen gave a presentation on the need for geoengineering in the Arctic to prevent runaway climate change.
And here are some of their conclusions, giving us great hope.
What is an Appropriate Response for a Planetary Emergency?

1. First and foremost, the meltdown of the Arctic summer sea ice, with the Arctic already emitting additional methane to the atmosphere, must be declared a planetary emergency.

2. The immediate emergency response is to stabilize Arctic sea ice and Arctic carbon by cooling the Arctic. This is certainly doable and can be done safely.

3. We also have to immediately and drastically cut global CO2 and methane emissions, which can be done. The science is definite on the need to reach zero emissions; we have to rapidly develop the capacity to extract CO2 directly from the air, which can be done by several methods, both biological and technological.

4. To achieve these urgent goals, it is necessary (as has been urged by peace and social groups for many years) that the vast amounts of funds and human resources devoted to the military and aerospace industries be diverted to the great enterprise of stabilizing the Arctic, protecting our planet, and rescuing our future.

5. There are, of course, also many personal lifestyle changes that will help reduce global carbon emissions and it is hoped that people will take advantage of them all when they become aware of the dire emergency we are now in.

6. The Arctic Methane Emergency Group is investigating all possible options for developing the capacity to safely cool the Arctic within a couple of years.
See their Brochure flipbook and have a look at their Workshop Report, where they identify means to reduce the threat of methane being emitted from sources in the Arctic in such quantities as to have a major impact on global warming. These include:
cooling the Arctic, regionally or locally, using Solar Radiation Management (SRM-type geoengineering);
management of the methane environment at the local level (see below); and
capture or destruction of methane, already in the atmosphere.
For me, it is encouraging this group is taking the rapid release of methane in the Arctic so seriously. 
For too long we've been listening to those, including Al Gore, who emphatically state, "It's not too late to save the Polar Ice Cap," without any hint of how this might be accomplished. Yet many believe saving and restoring the Arctic sea ice is crucial for stabilizing world temperature and hopefully, eliminating the threat of runaway global warming.
Is the Arctic Methane Emergency Group correct in proposing such controversial measures? I think their work should be given serious consideration, and I'm certain others will agree. But let us be careful what we do and how we do it. See
The Oxford Principles for Geoengineering Research
, October 14, 2011
[Continue reading: Arctic Methane Emergency]
---
Over at ThinkProgress Brad Johnson dissects the US position at the  climate talks:
"At a press conference on Wednesday, top U.S. climate envoy Todd Stern explained to reporters in Durban that he sees the goal of limiting global warming to less than two degrees Celsius above pre-industrial levels — more than double the amount of existing warming — as a "guidepost," instead of "some kind of mandatory obligation":

"I think that we look at two degrees as an important and serious goal which ought to guide what we do, which ought to guide the action that we take in order to try and attain it. That is — so it's important, it's serious, and it's a guidepost I would say. That is still different from looking at it as an operational cap that you must meet, and that if you, you know, see yourself off of it based on science, then you have some kind of mandatory obligation to change what you're doing, whether you're in the United States, or Europe, or China, wherever you might be. I think you have — I mean, I think as we look at science, and we see the trajectories, it ought to inform our sense of what needs to be done. It might well cause us or anybody else to say, jeez, we need to do more. But we don't see it as akin to a national target.

Watch it:

At the beginning of the Durban climate talks, U.S. climate negotiator Jonathan Pershing brushed aside concerns that commitments made under the Cancun agreements in 2010 put the world on a pathway much higher than 2°C, arguing there are "essentially an infinite number of pathways" that allow stronger cuts starting in 2020 to "stay below 2 degrees." Pershing later conceded that it is "desirable to do a great deal earlier" but argued the negotiators have to be "politically pragmatic."
Infinite ways to spell 'i n s a n i t y'?
"… it's a guidepost I would say."
Right, and "Warning: lethally toxic high voltage radioactive explosive" is just a health tip.
Stern's statement is trivially true; any information is a "guidepost." This particular guidepost informs us that 2oC is almost certainly catastrophic and knowingly going above it is insane. The cavalier manner with which he tosses the statement out, as though we were talking about highway signs advising motorists about rest stops, is criminally irresponsible.
OK, that's not entirely fair. Departments of Transportation generally take rest stop signs far more seriously than our governments regard climate change. If you think that last statement was unfair, consider how most highway rest stops actually have visible, appropriate and accurate signage. Compare that to our various governments inaction on climate change, QED.
" … infinite number of pathways" that allow stronger cuts starting in 2020 to "stay below 2 degrees."
Actually it's entirely possible that we have already missed the 2oC window of opportunity.  If we haven't, 2015 is almost certainly too late, and to imagine we will do it in 2020 is delusional.
Stern is effectively saying that while large cuts in carbon emissions are impossible now, total and virtually instantaneous de-carbonization in 2020 can be accomplished any number of ways. Just what mythical being with magical powers does he imagine is going to make that happen? It's an absurd claim to make.
"…as we look at science, and we see the trajectories, it ought to inform our sense of what needs to be done."
Yes, it ought to, so why isn't it? Why do the Durban positions of the USA and Canada look like they are guided by the science of the 1950s? To invoke science as somehow informing what is/has happened in Durban is a ludicrous obscenity.
Statement of the Obvious
So " … negotiators have to be "politically pragmatic."?
Let me see if I got this right:
There is a lack of political will for change because the public does not support real action. It seems that after years of being lied to about how serious the problem really is (or indeed if there even is a problem), the public does not seem to understand just how serious the problem really is. Is that it in a nutshell?
[Continue reading: COP17: Climate Change Terrorism is "Politically Pragmatic"]
---
Beyond 'dangerous' climate change: emission scenarios for a new world
Drs Kevin Anderson and Alicia Bows' Beyond 'dangerous' climate change: emission scenarios for a new world is further summarized by David Roberts at Grist in his latest post The brutal logic of climate change mitigation. Once again I won't repeat his work (which you should read), but rather draw your attention to a few points which he emphasized:
"We pretend that 2 degrees C is our threshold. Yet the climate scenarios and plans presented to policymakers do not actually reflect that threshold. As Anderson and Bows say, "most policy advice is to accept a high probability of extremely dangerous climate change rather than propose radical and immediate emission reductions."

Note, also, that most popular climate scenarios include an implausibly early peak in global emissions — 2010 in many cases, 2015-16 in the case of the Stern Report, the ADAM project, and the U.K.'s Committee on Climate Change.

…

In other words, climate analysts construct their scenarios not to avoid dangerous climate change but to avoid threatening economic growth.

…

This is the stark conclusion drawn by Anderson and Bows: "The logic of such studies suggests (extremely) dangerous climate change can only be avoided if economic growth is exchanged, at least temporarily, for a period of planned austerity within Annex 1 nations and a rapid transition away from fossil-fuelled development within non-Annex 1 nations."

I know what you're thinking. It'll never happen. … "
It is already happening
I want to take exception to David Robert's "It'll never happen. … " Quite the contrary, a radical reduction in the economy is inevitable. The only options we are currently contemplating are how and when it happens, not "if". Regardless of the choices we make, we do not get to keep our toys and infantile self-absorption. On the table there are only two options:
An immediate, voluntary, planned scaling back of our frivolous excesses and wanton self-indulgence to allow for the long term well being of all living beings, including humanity;
Continued indulgence for a few more years, followed by a  complete and permenant social collapse within decades, and the attendant biological and humanitarian catastrophe that has already begun.
The option we collectively seem to think we have chosen, viz
3.  Waiting for our governments and bureaucracies to deliver a sustainable world at no detectable cost to our life styles or personal comforts.
is of course really just option 2, ie climate catastrophe and complete social collapse, covered with a thick layer of self-deception and willful ignorance.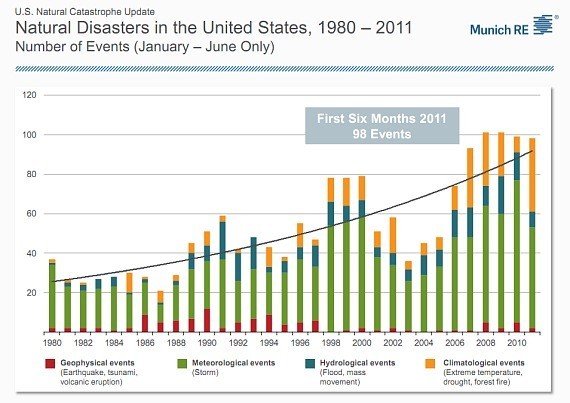 [Continue reading: Beyond 'dangerous' climate change: Till We Have Faces]
---
There is so much ugly news coming in with respect to climate  change that it seemed best to bundle at least some of it into one post for easy reference.  These grim facts are the context in which our politicians and bureaucrats are currently at COP17  in Durban claiming that we have at least four, possibly as many as nine more years before we need to take meaningful action.
They are making that claim about a supposedly "safe" 2oC rise in temperature, a window we have almost certainly already missed thanks to years of the same waffling and foot dragging. As these posts document, we now know that even 2oC is NOT safe and that further delay is absolutely suicidal. Bear in mind as well that they are making those claims while knowing these facts.
"New, extensive study of the paleoclimate record going back 50 million years by [James] Hansen and others now shows that the two-degree target for global temperature rise " is a prescription for disaster,"

Hansen said here at a news conference during the American Geophysical Union meeting. Hansen came to that conclusion after reviewing average and extreme perturbations in the paleoclimate record that have been more thoroughly documented in the past few years. The record shows that 50 million years ago, Earth was free of ice, and sea level was 70 meters higher on average than it is today. Both phenomena resulted from natural variations in mean temperatures due to slight changes in the sun's output and Earth's orbit over geological time scales. Rising temperatures today, over far shorter time scales in which neither the sun nor the orbit are factors, are caused primarily by higher levels of CO2 and other greenhouse gases in the atmosphere."
"Accelerating melting on the world's ice sheets and other new observations have scientists concluding that even a two-degree Celsius rise in temperatures – a benchmark long seen as safe in global climate talks and other emissions reductions scenarios – could lead to an 80-foot rise in sea levels."
"Current pledges for curbing carbon emissions will doom the world to global warming of 3.5 C, massively overshooting the UN target of 2 C, researchers reported at the climate talks here on Tuesday.

An abandoned housing project in North Las Vegas, Nevada. Scientists caution that 2 C (3.6 F) is no guarantee of a safe haven against climate change and consider 3.5 C (6.3 F) to be an extremely dangerous scenario. (AFP, Jewel Samad) Output of heat-trapping carbon gases is rising so fast that governments have only four years left to avert a massive extra bill for meeting the two degrees Celsius (3.6 degrees Fahrenheit) target, they said."
[Continue reading: Lying about the science is a "Prescription for Disaster"]
---
Read More Posts From Recent Posts »